When choosing Housing for Small Animals you must take into account that you give them enough space (minimum of 5 feet wide) but also where you have space for them – whether it be inside or outside.
Fit for Rabbits and Guinea Pigs, my Guinea Pigs live in one of these fabulous 3 Tier Indoor Hutches which doesn't intrude on space, yet gives your pets enough room to run around so I'm not worried that they're losing out on exercise if I'm out of the house all day. The ladders are sturdy, it just takes your pets some time to get used them. We added felt in-between the steps for that extra grip (and later on had to put their tunnels on the ladders as two of them still wouldn't go up them). A Single Tier Indoor Hutch is equally as good, you just have to make sure it is long enough (5ft preferably) and let your pets out into extra space as often as possible.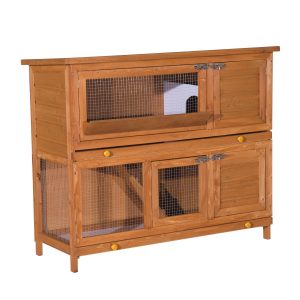 Outdoor Hutches come in a variety of shapes and sizes. If you don't have a large area for your pets to run around in, a double or triple tiered hutch is ideal as they have more space. If you do have a large garden, you can buy Extensions and add them to your already owned single or double tiered hutch, allowing your pets the space to explore but the safety of an enclosure.