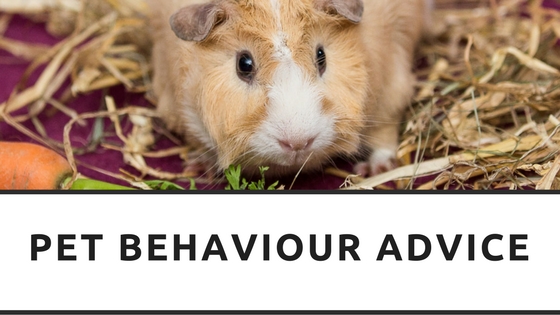 Is my Guinea Pig Okay?
Is my Dog Okay?
Have you ever asked these questions?
If your pet has gone off their food or isn't their usual self – moping about the house, being overly clingy – and you've confirmed with the Vet that your pet isn't ill, it's time to focus on your pet's mental state and get some Pet Behaviour Advice.
We offer Pet Behaviour Advice on what is normal for your pet and what you shouldn't be overly concerned with, such as certain Dominating Behaviour, but also Behaviours that you should be concerned about such as Fighting and Barking.
With 29 year's experience of looking after Small Animals – Guinea Pigs, Rabbits, Hamsters and Fish – we specialise in offering Pet Behaviour Advice for your Small Animals.
In addition, we have Certificates in Animal Management and Animal Psychology (certificates can be seen) and 10 year's experience of looking after dogs enabling us to offer Pet Behaviour Advice for your dog too.
Is my Guinea Pig drinking enough/too much?
Why won't my Dog get off the sofa when asked?
We can help with these and many more questions.
How do I get advice?
We offer three ways to get help:
Send us an e-mail with a video of the issue
Have a Skype session so we can observe your pet 'live' in it's normal environment.
Bring your pet to us or have we will visit you and we can observe the issue.
Skype Sessions and Sessions in Person will last up to one hour.
Once you have chosen your service, we will send you an e-mail and arrange the Appointment. We aim for appointments to happen within one week of receiving your service request.
You can choose and pay for your service here.
Looking for a Pet Sitter? Look here.