March is Adopt A Rescued Guinea Pig Month, and we certainly did just that.
Our last set of re-homed Guinea Pigs came from a wonderful lady in Blackpool who rescues and re-homes Guinea Pigs (check out her Facebook Page for more information and to donate – she always needs donations of bedding, food and money!). We re-homed three Guinea Pigs from her last time, two girls and a boy, and this time we ended up re-homing two girls.
Here they are! Morse and Lestrade. Morse is an Abyssinian aged 7 Months and Lestrade is a Peruvian aged 1 year.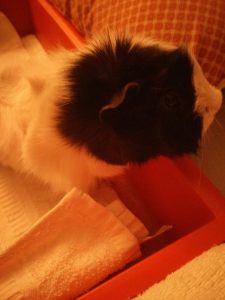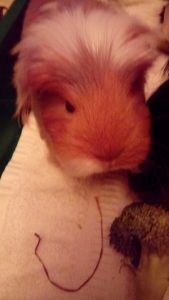 Unfortunately the boy we re-homed last time passed away last month so we are now down to five girls. Mia, Holmes, Columbo, Morse and Lestrade. There's a detective theme…
Here come the girls!!

Why don't you find your nearest rescue and re-home shelter and Adopt a Rescued Guinea Pig into a happy home?
To find out more about getting a guinea pig for the first time, see my post on Getting Started with Guinea Pigs or Rabbits to make sure you have everything you need.
To follow more of My Story, have a read here.